If you've been keeping an eye on nutrition trends, you likely know that getting enough Omega-3s is important. Omega-3 help lower inflammation, making them useful for everything from heart health to brain health to arthritis relief. Since your body doesn't make Omega-3 fatty acids on it's own, in order to reap all these health benefits, you'll have to eat Omega-3 rich foods.  
When most people think of foods that are rich in Omega-3s, they immediately turn to fish. Yes, fatty fish like salmon, tuna, and mackerel are all great sources of Omega-3s. But you don't need to load up on seafood to get your daily dose of these heart-healthy fats!
There are plenty of plant-based sources of Omega-3s, but it's important to note that most plant-based sources only provide ALA Omega-3s. There are 3 types of Omega-3s: EPA, DHA, and ALA. EPA and DHA are primarily found in marine foods like fish and algae, and they're the types that research tells us are the most beneficial to your brain and heart health. ALA, on the other hand, is found in plant foods and gets converted to EPA and DHA in the body. That conversion process isn't super efficient, so you'll need to up your Omega-3 intake if you're relying solely on plant-based foods.
If you're not a fan of eating fish (or taking fish oil supplements) to meet your Omega-3 needs, here are 6 great sources of Omega-3s that aren't fish!
Algae Oil
Algae oil is a fantastic plant-based Omega-3s because it's chock full of EPA and DHA, unlike most other plant sources. Algae is naturally rich in Omega-3s, especially DHA. When fish eat algae, they deposit those Omega-3s into their tissues, allowing you the to snag Omega-3s right from the source! You can buy algae oil at most health food stores, or here on Amazon. 
Flax Seeds
Flax seeds are a great source of ALA Omega-3s. They've got a nutty flavor that's perfect for adding a boost to oatmeal and baked goods, and they're also rich in protein and fiber. Just make sure you buy flaxseed meal or grind them up before you use them – your body can't digest the seeds when they're whole, so you won't get any of the omega 3 benefits unless they're ground! Flax gives a boost of healthy fat to my Sweet Apricot Almond Granola and Chocolate Lemon Energy Balls.
Hemp Seeds
Hemp seeds are another seed rich in fiber, protein, and ALA Omega-3s. They've got a more mild, almost grassy taste and buttery texture that I love in smoothies or just sprinkled on top of yogurt! I also love that they're a complete source of vegan protein; they contain all 9 essential amino acids. That, along with their Omega-3 content, makes hemp protein powder one of my favorite plant-based protein powder options for blending into smoothies. My other favorite way to use hemp seeds? These Gingerbread Hemp Bites!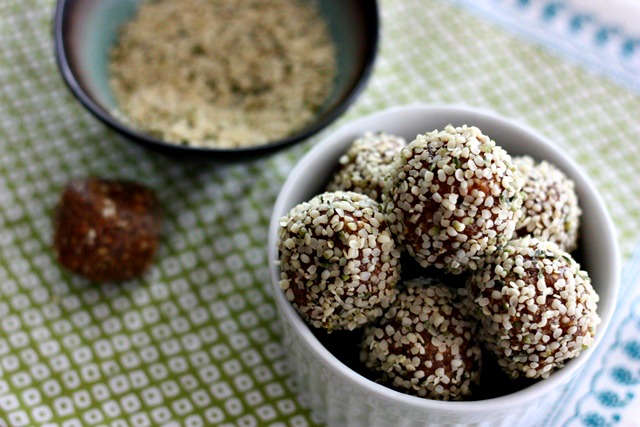 Chia Seeds
You guessed it, chia seeds are another seed that's rich in protein, fiber, and Omega-3s! What I love about chia seeds is how versatile they are – you can use them in so many ways. Beyond a topping for yogurt, chia seeds make their way into my menu almost daily in the form of chia pudding (like my mango-kiwi or banana varieties) or as a refreshing chia fresca. Try one with wild blueberries or pineapple and turmeric!
Walnuts
Walnuts add a nutty, buttery crunch – and plenty of omega-3s to just about any dish. They're great for adding crunch and texture to banana bread, a bowl of oatmeal, or yogurt parfait, and they're perfect for adding texture and flavor to savory dishes like my Roasted Butternut Squash with Lentils and Walnuts.
[Tweet "6 sources of Omega 3 fats that aren't fish: "]
Soybeans
Whether in the form of edamame, tofu, or tempeh, soybeans are a great source of vegetarian protein and Omega-3s. I love edamame for a satisfying snack that has enough protein and fiber to keep me full between meals, but my favorite way to eat soybeans is tempeh. Tempeh not only gives you a serving of plant-based protein and omega-3s, it's also a fermented food, providing probiotics that are great for gut health. Some of my all-time favorite recipes are made with tempeh, including my Skillet Tempeh Enchiladas and Tempeh Taco Salad.
What foods do you eat to make sure you're getting enough Omega-3s? Let me know in the comments below!